After seeing great traction in the Indian market, Coolpad today launched Coolpad Dazen 1 Black, which is cheaper by Rs 1,000.
Responding to this, Lenovo has also cut the price of the A6000 Plus by Rs 500 to Rs 6,999.
Priced at just Rs 5,999 and available on Snapdeal, Dazen 1 is now the undisputed value-for-money king in entry-level 4G segment.
Unlike ZTE Blade Q Lux, which is priced at only 4,999, the Dazen 1 comes with an HD display. HD displays come with 1 mln (1 MP) pixels on their screens, which makes the picture clearer. The Blade has only a 0.4 MP display.
The phone, which was being sold for Rs 6,999 earlier, also comes with an 8 MP camera at the back and a 5 MP one on the front. Battery is 2.5 Ah and Android version is 4.4.
At this price, therefore, the model offers tremendous value for money.
The closest competitor, Yu Yuphoria, is priced at Rs 6,999, and offers 16 GB of internal memory, while the Coolpad model offers only 8 GB. There are practically no other differences between the phones.
Still, many buyers will be willing to sacrifice 8 GB of internal memory to save Rs 1,000, especially as memory can be extended by using a micro-SD card.
"This is the only device in India offering 2 GB RAM and 4G LTE under Rs. 6000. Dazen 1 black edition will be available along with snow-white color launched earlier – together on Snapdeal on June 22 at 10am," the Chinese company said.
Interestingly, there is another Coolpad Dazen 1 model that has been tagged as "coming soon" on Snapdeal. In terms of specifications, however, the 'coming soon' model seems identical to the Dazen 1. No pricing details are revealed.
The following table is provided by Snapdeal as comparison between Coolpad, Yu Yuphoria, Redmi 2, Lenovo A600 Plus and Moto E 4G.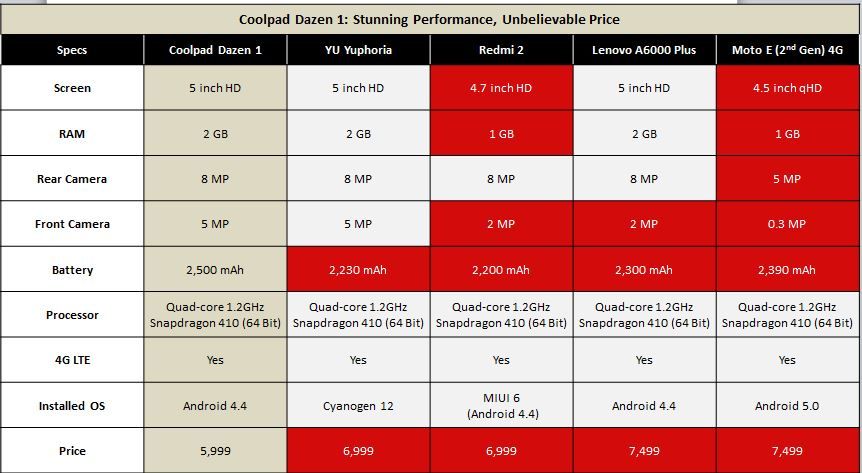 Coolpad used to provide handsets to Indian brands, who used to sell these handsets under their name.
The company has approached the Indian market directly with the Dazen line of smartphones.
In the previous two sales, Dazen 1 has been selling out within seconds on Snapdeal.
Varun Sharma, India CEO, Coolpad Dazen, said, "A lot of our customers have been asking for black color since launch. We are glad to launch the black edition for Monday's sale making it the first handset offering 2 GB RAM and 4G LTE under Rs. 6000."
Dazen 1 is powered by a 1.2GHz quad-core Qualcomm Snapdragon processor coupled with 2GB of RAM along with 8GB of built –in storage. It sports an 8-megapixel rear camera with a f/2.2 lens and LED flash. It also features a 5-megapixel FF front camera. It is backed by a 2500mAh battery. The phone is available in baby snow-white and now in sand stone black color. Backed by rigorous R&D, Dazen phone will have extended battery up to 50% with patented technology.
Coolpad Group, founded in 1993, is listed on the Main Board of the Stock Exchange of Hong Kong in December 2004.
The Group is a leading developer and provider of integrated solutions for smartphones, mobile data platform systems and value-added business operations in China. The Group provides its products and services to enterprises, government organisations and mobile operators as well as individual consumers in China.
Recently, Chinese internet firm Qihoo 360 Technology Co Ltd has invested $409 million in Coolpad Group Ltd. Their JV will leverage Coolpad's extensive expertise in smartphone design, manufacturing, supply chain management, and aftermarket services, while benefiting from Qihoo 360's strong capabilities in Internet security software, mobile apps development and online marketing.[socialpoll id="2278588″]